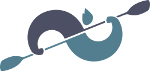 Dettagli

Pubblicato: 11 Febbraio 2012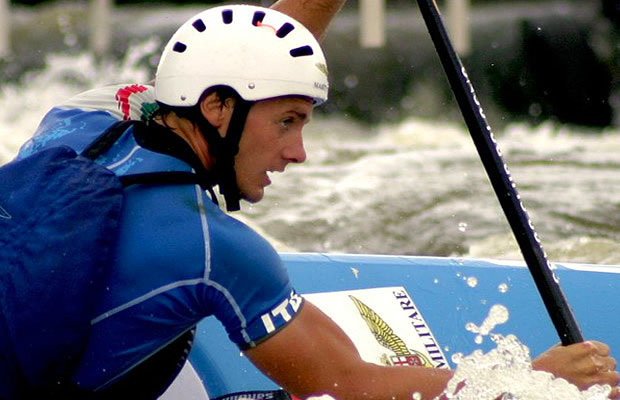 Ti svegli in una mattina di blizzard (manco fossimo nel middle west, con quelle bufere che si vedono solo in tv), con la neve che continua a cadere senza sosta... cosa faccio?
Vado a spalare? Naaa, ne cade altra, aspettiamo.
Torno a letto? No, devo fare delle cose per il Club al computer.
Accendo il Mac e getto un occhio al sito degli Australian open, che si tengono in questi giorni a Penrith.
Giusto così per dare un occhio, tanto con la differenza di fuso chi ci capisce qualcosa su che giorno e che ora è là, quando gareggiano i nostri... poi come fanno a testa in giù a non uscire dalla canoa!
Ieri, Cippo nel C1 e Pietro e Nik in C2, si sono qualificati per le semifinali... non male, non ci sono proprio tutti, ma quasi tutti: là, down under, fa caldo (30° gradi e mai sotto i 20.... p+--a t-++a!!!) e tantissimi atleti hanno iniziato la preparazione nella terra degli Aussie.
Poi vedo che hanno corso... Azzz... dove sono i results dei C1, è proprio un sito fatto alla rovescia!!
Eccoli.  ... Dunque, dov'è? Scorro la classifica. Parto dal basso (scaramanzia), gli occhi salgono e cercano "ITA"... E' arrivato 16° in semifinale. Grande Cippolino!
108,96 più un tocco, buono, buono, molto buono!
Ha beccato poco più di un secondo da Martikan (mica cotica) battuto Lenarcic e Labarelle e in finale ci sono tutti les francais e i togni, oltre ad un americano, a Florence e a Benus.
Non so lui, io sono molto contento; una gara è fine a se stessa, si sa, quando si ricomincia si azzera tutto, ma i distacchi rispetto all'anno scorso si sono ridotti.
I suo grande impegno sta cominciando a pagare, considerando che da solo un anno ha scelto il C1, non tralasciando il K1.
E domani tocca a Pietro e Nik, forza ragazzi!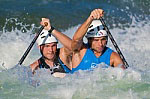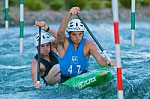 Di seguito un'intervista australiana di Stefano
Stefano Cipressi doesn't look like a typical World Champion. He's not aloof like Martikan, there's no Hulk biceps like Molmenti, and he's not known for histrionics like the Hochschorners. In fact, the Italian is pretty reserved. He wears bookish glasses and a shy smile, and although he's forthcoming in conversation, he doesn't attract attention to himself in a group.
But then Cipressi's 2006 World Championship story wasn't typical either. In fact, he didn't even make the Italian team that year. What's more, after missing K1 selection, he turned his attention to C1 and also spent weeks in a plastic boat before belatedly filling a spot in the Championship. The offer of an entry to the Prague Championships only arose when events led to the Italian Federation filling some spare spots with young athletes. Once at Prague, the then 24 year old got back in his K1 and smashed his way to the final in first place by several seconds. And although it was lightning quick, Cipressi's finals run was out of the ordinary as well, sparking controversy over two up-streams that were regarded as fifties by some but all clear by the judges.
'If I have to think of a good memory, I will remember other important races than Prague', admits Cipressi when I ask him about 2006. He would much turn the conversation to his fond memories of Bourg St Maurice in 2004 when he won the World Cup; 'it's still a beautiful dream in my memory.' When I turn the conversation back to Prague he simply explains that he takes responsibility for running a risk in the race and made the most of the situation he found himself in. '[After the race] I had 30 minutes when I was really happy because you train a lot, and in Italy you sacrifice relationships, and I was out of the team for two years and I arrived in Prague to race. I was probably one of the least likely to win and within a couple of hours everything changed.' I ask him if he believes in luck. 'I don't really believe in luck. I believe luck is really close to emotion, so you have to believe in what you are doing to try to do something. You have to try every time to add something to your information of what you need to know.'
He attributes much of his edge in that memorable race to the psychologist who was working with him. 'He helped me a lot to find a way to be free in competition', explains Cipressi. 'Every athlete has his balance… and I was really free in the semi-final and also in the final.' He pauses and adds, 'In the final I was more excited.'
Does he think that race has changed the way he races since? 'I am a bit instinctive when I'm in a big competition so I think probably nothing has changed,' he answers, grinning. 'But it is also the [nature] of competing at top levels: a lot of times I try to change something, maybe in training I change something, but in the competition you have to be natural. When I watch people like Fabien Leferve I think they are very lucky because they can paddle K1, C1, or C2 and are fast because they have the movement inside. Other people have to construct every little stroke. People are in half way between one and the other. I think I have a good instinct because I was paddling very young.'
He was indeed very young. Cipressi remembers his first experience in a boat with his father at the age of six or seven. His father 'did a little of everything', including DR. During one DR race, Cipressi's father collected him from the bank during a race before finishing the last kilometre of a grade II river. Later memories consist of watching his father and brother paddling whilst he 'was out of the river with my mother.' It was only a matter of time before he joined them.
Ten years later, footage of fellow Italian Pierpaolo Ferrazzi medalling in Penrith in 2000 inspired Cipressi to aim for his own medal. 'I saw the video a lot of times and it was my dream to win a medal.' So the journey began.
According to Cipressi, the years between 2000 and 2006 went by pretty quickly. He first achieved a spot on the Italian team at 20 years of age in 2002 and maintained that team spot for the next two years.
During that time the military snapped him up, not uncommon for athletes prior to an Olympics, according to Cipressi. 'When I was in the army something changed because I was on the base, I was close with other athletes. I was more motivated to train because at home I don't have any friends for training and every time I trained at home I didn't have a coach.'
In 2004, although he missed the Italian Olympic spot, he made a final in a World Cup and, as he puts it: 'I was fast.' Things were on track.
The next year, however, Cipressi did not make the Italian team. He wasn't fazed and remembers thinking the year was 'quite good' but it clearly wasn't part of his plan for a medal.
Then in 2006, 'the first part of the year was big trouble' because Cipressi missed Italian selection for the second year running. So he made the curious decision to paddle C1 instead. Why? 'I like C1 more than K1,' he answers straightforwardly. Painful knees had prevented him from paddling C1 when he was in his teens, and his club apparently didn't encourage the C1 class in DR anyhow. After selection in 2006, though, Cipressi decided a change would be good.
History shows that it certainly didn't seem to do him any harm, despite the drama of the World Championship win.
After 2006, Cipressi prioritised his study over training. He has been interested in psychology since secondary school and went back to the University of Bologna to study the subject. Although he continued to train hard through '07, '08 and '09 he believes that putting study first may have held him back: 'Now I know that I can do very good only one thing and a half!' Another factor may also have been that Bologna is two and half hours from white water.
Nevertheless, there seems to be some truth in Cipressi's self-assessment. Only in 2010 after the bulk of his degree did he reach a World Championship final again. With the fresh result and the end of the degree in sight, the winter of '10/'11 saw slalom take priority again. Yet in January 2011, during a training camp, Cipressi suffered severe pains in the seat of the boat. A cist in the base of his back, possibly from years in the sport, had to be removed as soon as possible. 'I was thinking it could be an easy operation', remembers Cipressi, 'but in the end I stayed lying one month in bed'. Despite recovering his fitness before selection later that year, Cipressi failed to make the team. In addition, new Italian Federation rules declared that 2012 Olympic spots would only be available to athletes who had achieved a final in 2011. Now he was 'out of selection and out of Olympics'.
So apparently another class change from K1 to C1 was in order – the very next day after selection.
'I don't know for other people but for me it's really important to change because I have a lot of new energy when I change and a lot of motivation to change and research. In this period I am working a lot for fitness but every session I search something new.'
Certainly, Cipressi's 2012 goals continue to revolve around C1. Despite suggestions that his change of class was driven by strategic Olympic goals, Cipressi insists he's in the C-class because he loves it.
His relaxed laugh and his pleasure in talking about learning new things convinces me that fun, rather than Hollywood-style comebacks, really is the underlying motivation.
It shouldn't be hard to believe; simple enjoyment was the reason we all started canoeing anyhow so why shouldn't it be the reason to continue?
Cipressi's approach may not be typical but it seems pretty smart to me.